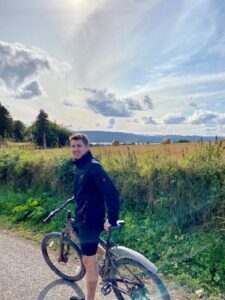 March 2021 will mark six months as a trainee in the firm. It's hard to believe that a quarter of my traineeship has come and gone, all without stepping foot in the office!
My first seat has been in Restructuring, spanning three departments; Corporate, Insolvency and Employment. One of the advantages of this combined seat has been the variety of work I have been able to get involved in. From attending court hearings in a recall for sequestration claim, to drafting a loan agreement for a corporate client – no day has been the same. Therefore, I wanted to take this opportunity to write about my experience so far.
From day one, I have been given meaningful work that directly impacts our clients and as time has progressed, so too has the complexity of each instruction. In the Insolvency team, I recently carried out research on the appropriate rules for serving notice of court proceedings in a foreign jurisdiction. This research is crucial in proving to the court that service has been properly constituted. At the time of writing this, a note has been lodged with the court awaiting determination in an upcoming pre-proof hearing. Watch this space…
Earlier this month, and on behalf of the Corporate team, I took my first client instruction. The scope of work was to review and amend the terms and conditions of a company's service contract. This was my first opportunity to combine things I had learnt in earlier months such as; drafting letters of engagement, preparing file notes, carrying out comprehensive research, and shadowing client calls. From my first consultation with the client right through to the drafting of new terms and conditions, I was able to see how each bit of training applied in practice.
Gilson Gray places considerable emphasis on training and ensuring that its staff have the opportunity to develop their existing skill sets, as well as honing new ones. Since the beginning of the New Year, the firm has been hosting training sessions for its trainees and NQs. With remote working being the norm, there has been a conscious effort to make these sessions as interactive as possible. Examples of this include; remotely reviewing an investment agreement for a commercial property acquisition and remotely drafting a petition for the winding up of a company. We were all encouraged to get involved. Our next session will be the most interactive yet. The trainees and NQs have been separated into two teams and tasked with arguing a motion for the provisional appointment of a liquidator in moot court.
One of the advantages of working in a full service law firm is the ability to draw on the wealth of knowledge each department has to offer. Not only is this a great environment for trainees like myself, it demonstrates how versatile Gilson Gray's service offering is.
Since starting, I have been given the autonomy to work independently.  However, there was never a moment where help wasn't available when I needed it, and I think it is this point that separates Gilson Gray from other law firms; one of the core values that underpins the firm's whole ethos is that "People Matter" and this is something I can personally vouch for.
If you would like further information regarding our traineeship program, please click here.
The information and opinions contained in this blog are for information only. They are not intended to constitute advice and should not be relied upon or considered as a replacement for advice. Before acting on any of the information contained in this blog, please seek specific advice from Gilson Gray.