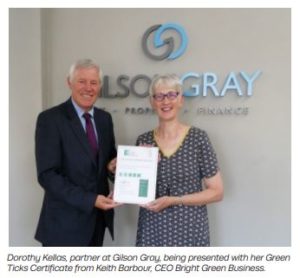 The town is aiming to be a zero waste town and there is a lot of awareness locally about the environmental impact of the way we live and work. Discussions with Bright Green Business led the firm to embark on seeking formal accreditation for their Environmental Management System (EMS) – BS8555 Green Ticks Scheme. After an inspection in June the office passed and now proudly displays its certification!
Many people will think that a legal firm is the last place where paper saving could thrive but in fact, with a collective will, it is remarkably easy to reduce the amount of paper. But beyond that
they have introduced protocols for recycling, reduction of plastic by encouraging re-useable receptacles or picking up litter when walking on the beach and they have recently switched from a
favoured coffee capsule to compostable versions. That, together with energy saving measures, and a continued drive to reduce paper means they can, hopefully, continue to improve.
For example they are printing long letters double sided, which at a stroke will halve the paper used, a move that their clients wholeheartedly support.
Dorothy Kellas, Partner at Gilson Gray has been the leading light in achieving the EMS, "We are not a massive organisation so changing our behaviour will have a more limited effect than if we were a huge manufacturer, chemical plant or retailer. But if everyone does what they can it can make a difference and we are proud to be doing just that".
Bright Green Business are part of the Mid and East Chamber of Commerce and have been working with SMEs across Scotland for over 20 years helping them reap the many benefits that can arise from implementing an EMS. Elaine Brown from Bright Green Business highlighted that; "The Scottish Government has announced a Climate Emergency and set a new target which will require Scotland to bring greenhouse gas emissions to Net Zero by 2045 to end our contribution to global warming. The onus will soon be on businesses to shape their own NET Zero future. At Bright Green Business we recognise that this can be a daunting task for businesses. Gaining our UKAS accredited Green Ticks Scheme is an excellent way to work towards this target and also save your company money!. We are delighted that Gilson Gray are well on their way to helping meet those targets"
Dorothy added, "The process was very easy and we got lots of help along the way. Benefits have included increased awareness and constant improvement within the team. We have switched our weekly fruit order from Tesco, where it comes wrapped in plastic, to the new greengrocer in North Berwick!.