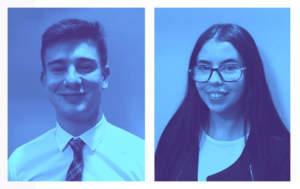 At Gilson Gray we are always keen to see people grow and develop.  There is an established path for our talented trainee solicitors who join us to complete a 2-years traineeship, developing them into skilled solicitors.  From there, they go on to progress through the solicitor promotion levels.
But what about non-solicitor career paths?  We have already launched GG Academy which is aimed at developing admin support staff who want to progress onto paralegal roles.  Our residential conveyancing team have a number of staff who are being supported in developing paralegal skills whilst working alongside a team day-today.
We are delighted, therefore, to continue this path of developing careers by starting a Modern Apprenticeship programme.  Next week sees 2 new apprentices joining Gilson Gray to start their career journeys.
"I am absolutely thrilled that we have the opportunity to bring in young people between 16-19 years old and develop them in roles that matter to the firm and providing career opportunities to them.  It is a win-win".
Peter Scanlan starts as Office Assistant in our Glasgow office and Grace Stevenson as Team Support for the Residential Conveyancing team, also in Glasgow.  Our HR team worked with QA to identify both candidates and are very excited about welcoming them into the GG Family.  Both are a great GG-fit and we can see opportunities to develop and grow in these Apprenticeship roles – and also, potentially beyond.  As the Firm continues to grow, we are keen to have staff grow with us.