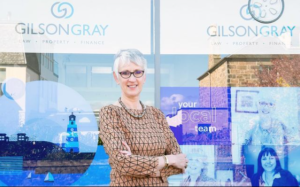 The end of this month marks three years since the team in East Lothian joined the Gilson Gray stable.  The frenetic activity of our makeover during the weekend before is now just a memory and in many ways we feel like we have always been here.
We have seen some changes and significant growth – to the extent that we can now properly boast a full service offering from North Berwick High Street.  Our local team is one of the best in the business and, whilst the last 12 months have been challenging for everyone, we have continued to do our very best for our clients throughout lockdown.  We may not all be operating from the office itself but we have managed to adapt to ensure there has been no disruption to our personal service.
Being part of Gilson Gray has allowed us to attract new colleagues, all of whom have enhanced what we can offer.  Yet we remain local people, focussed on providing the best legal service we can within our East Lothian community.  If you have never sampled what it is like to work with team GG please do get in touch.  And to our existing clients we say thank you so much for your support.  We hope to celebrate many more anniversaries in the years to come – who knows we may even be able to offer cake when we are allowed back to the office!
If you would like further information regarding the topics discussed in this blog, please contact:
Dorothy Kellas by email: dkellas@gilsongray.co.uk or by phone: 07711 984 919 / 01620 897 174
You can also find out more about our East Lothian office by clicking here. 
The information and opinions contained in this blog are for information only. They are not intended to constitute advice and should not be relied upon or considered as a replacement for advice. Before acting on any of the information contained in this blog, please seek specific advice from Gilson Gray.