St Andrews is a world-famous town, known in particular for being the Home of Golf and also for its world-leading University. It draws visitors and students from all over the globe and many fall in love with it and opt to stay or invest in second homes here. These factors are major drivers in the property market. But there's more to St Andrews than golf courses and students.
St Andrews is a medieval town, steeped in history. The ruins of the castle and the cathedral, both iconic and very recognisable, in parts date back to the 12th and 13th century and many of the buildings around the town are hundreds of years old, bringing so much character to the town.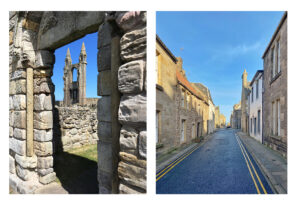 Much of this is already known to the majority of people. However, my favourite parts of St Andrews tend to relate to nature and wildlife, and the things that perhaps aren't always as obvious.

There are many well-known natural areas in the town – we have three beaches, numerous parks and the Lade Braes.
The beaches and coastal paths give ample opportunity to witness coastal wildlife. Many complain about the seagulls as pests, but I quite like their cheeky – or brazen! – nature and they often make entertaining characters for the subjects of photos.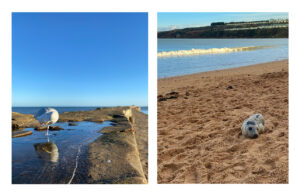 Just recently I was involved in a seal pup rescue at East Sands. Seals are common around Fife, with colonies at Tentsmuir and the Isle of May, but they are less often seen on busy beaches like East Sands. This little guy was not in great health so I waited with him until the SSPCA arrived.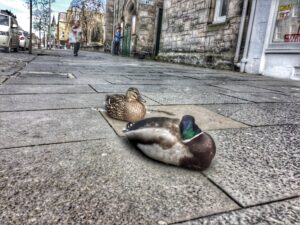 In the town, the other personalities we see in abundance are those of the ducks! One pair, in particular, are well known by locals, as they like to hang out around Market Street and South Street, often outside cafes or Tesco, waiting for tidbits. They don't care in the slightest about pedestrians walking on by in close proximity, and I promise I'm telling the truth when I say I once witnessed them using the zebra crossing!
For someone moving to St Andrews, I would recommend getting to know the 'on foot' short cuts around town.  There is a veritable rabbit warren of pends, wynds and trails that connect the main streets.  Many of these paths are lined by the oldest of the town's buildings, evident from the architecture and style, or offer a piece of nature, moments from the town centre.  If you're working in the town centre and want to go for a walk on your lunch break, winding your way through these alleyways will give you a far more interesting view of the town, away from the hustle and bustle.

It's hard to find someone who doesn't like St Andrews, it appeals to so many, and everyone will have a different reason to love it. I hope this piece might show those who haven't yet seen this side of the town that we can look beyond the reasons it's famous, and enjoy the smaller details.
If you would like further information on the topic discussed in this blog, please contact Sally Newman-Carter by email: snewmancarter@gilsongray.co.uk or by phone: 01334 845 934 / 07859 265 043. You can also view Sally's profile by clicking here.
The information and opinions contained in this blog are for information only. They are not intended to constitute advice and should not be relied upon or considered as a replacement for advice. Before acting on any of the information contained in this blog, please seek specific advice from Gilson Gray.